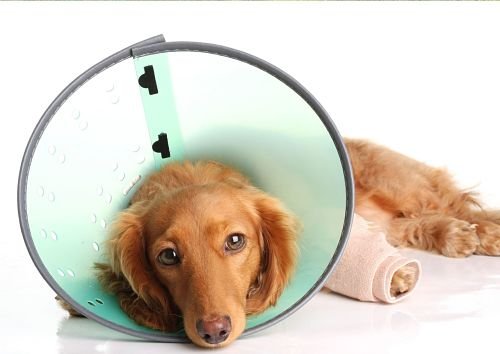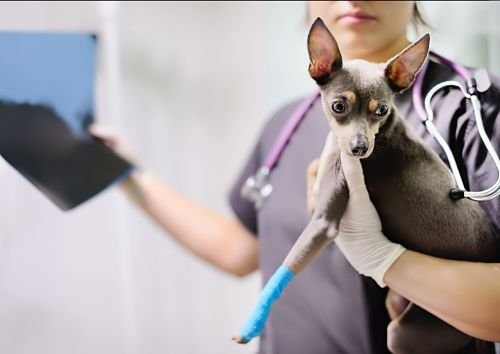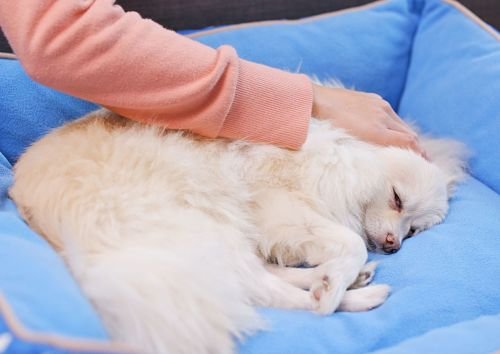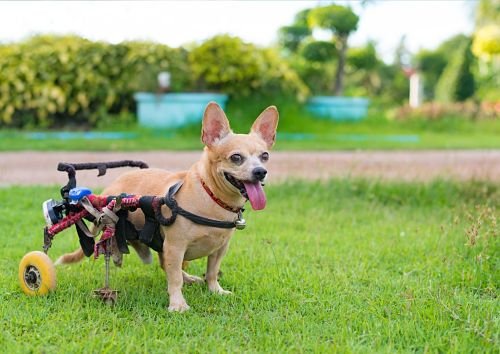 Get your dog back in shape!
From: THB 1,600
20 – 30 min
Increase range of motion, stability, endurance and strength, as well as balance, motor control, proprioception and flexibility.
Individual Physical Rehabilitation:
Weight Loss, Recovery after Surgery, Mobility, Physical Therapy 
Canine Physiotherapy in Bangkok
Improve your dog's quality of life and decrease pain by helping your dog enhance mobility of muscles and joints, through individualized canine physiotherapy also called physical rehabilitation, an adaptation of human physical therapy techniques to facilitate injured dogs.
Canine Physiotherapy is a special and unique program designed to help your dog to get back in shape and to be as fit as possible. It may enhance recovery from injury, surgery, degenerative diseases, age-related diseases, obesity and other orthopedic or neurological conditions.
This highly individual trainings program is ideal for dogs that are recovering from a surgery and need structured physiotherapy in order to get their strength back. The exercises also challenge your dog mentally, making it a great option to "exercise" your dog while on cage rest. 
Who will Benefit from Canine Physiotherapy ?
The benefits of canine physiotherapy is to reduce pain, swelling and muscle spasm. It helps to encourage healing and improve range of movement, prevents secondary complications, enhances and/or maintains function.
We will first examine movement and posture. Our expertise and in-depth knowledge of anatomy, biomechanics, pathology and physiology enables us to assess and treat injuries and diseases of the musculoskeletal system.
Examples of conditions treated:
Post Orthopedic Surgery 
Spinal Pain
Tendon and Ligament Muscle Strains
Muscle Atrophy
Nerve Damage
Arthritic Stiffness
Weight Loss
Improve your dog's well-being
Fabia is a Certified Canine Conditioning and Fitness Coach with a lot of experience in handling and rehabilitating dogs. 
What to expect from Canine Physicaltherapy?
This program focuses on your dog's individual needs.
A unique trainings plan will be created based on these needs, in order to help your dog regain her strength and reach set goals, while also improving your dog's core strength and body awareness. We can make use of the doggy swimming pool, as well as the well equipped doggy gym.
This Program also doubles as an excellent source of mental stimulation and enrichment, which is extremely important for recovery, especially for dogs that are usually very active.  It helps to keep them sharp and burns off excess energy in a healthy way.
What are we doing in a Canine Physicaltherapy Session?
Each Class starts warm-up exercises and ends with stretches.
Body awareness exercises are mostly done through the use of targets, this could be a nose-touch, a paw target, or one with any other body part.
Balancing and Strengthening exercises are done with the help of steps and platforms, and balancing equipment.
Movement often requires just very small body movements that isolate certain muscles and will build core strength, balance, focus, and endurance. It might not always look like the dogs are moving a lot or working out hard but, they are.
Safety is of uppermost importance, so repetitions are short, and an exercise is finished, when the dog appears to be tired. Activities should be challenging, but also enjoyable and comfortable.This course focuses to work on your dog's core strength and body awareness, but it doubles as an excellent source of mental stimulation and enrichment for all kinds of dogs, which helps keep them sharp and burns off excess energy in a healthy way.
As with any other Individual Training, you can start any time. 
Single Session
5 Sessions Package 
10 Sessions Package 
2,000 THB
9,000 THB
16,000 THB
Each session is 20 – 30 min
What other dog owners have to say:
"Seasoned dog training professional with personal touch. Positive dog training methodology. Well worth consultation for any dog needs."​
Follow Us on Social Media